COVID-19 Links and Resources
accelerate SC Task Force - FINAL REPORT
SCDMV Information in One Place:
CLPs & CDLs: SCDMV will not extend the expiration of CLPs or CDLs beyond June 30th.  All CLPs or CDLs with expiration dates of March 1st, 2020 through June 30th, 2020 that were previously extended through the end of June 2020, will be considered invalid as of July 1st, 2020.  All holders of CLPs or CDLs in this category should renew their credential prior to June 30th, 2020.
To facilitate renewals, SCDMV will continue to waive the requirement for a CLP holder to wait 14 days before obtaining a CDL.  This waiver will continue through September 30, 2020 and allows CLP holders the ability to quickly test for a CDL.
Additionally, because some CLP holders may not be able to schedule an appointment to renew their credential before June 30th, 2020, the SCDMV will waive the requirement to for holders of expired CLPs to re-take the knowledge test when renewing their CLP.  Again, this waiver will continue through September 30th, 2020.
Please remember:
Services differ depending on inter- or intrastate operations.
DMV Director Kevin Shwedo has released this Memo as update #1.  It adds enforcement guidance on vehicle tag expirations and IRP-Plated vehicles (SC and out-of-state vehicles). The added paragraph states, "All vehicles, including commercial motor vehicles in the International Registration Plan engaged in interstate commerce traveling in or through the state of South Carolina, with registrations that expire March 2020 through June 2020 will be valid until July 1, 2020."
CMVs with registrations that expire March 1, 2020 through June 30, 2020 will be valid until July 1, 2020. SCDMV has requested that enforcement not issue citations for expirations during this period. If you have CMVs that fall into this category, please download and print this notice and keep with the affected vehicles.
Since some state residents are not able to pay vehicle property taxes in counties closed to the public and because the county offices may delay issuance of tax bills, the SCDMV will suspend the collection of late fees for vehicle registration renewals. The agency will also suspend the suspension of driver's licenses for failure to pay property taxes for registration renewals that expire March 2020 through June 2020.
Treat all traceable temporary license plates and 30-day temporary license plates with expiration dates of March 2020 through June 2020 as valid until July 1, 2020. Vehicles that have expired temporary plates that are not properly titled and registered within 45 days after July 1, 2020 will be considered as having expired registrations.
Also, no suspensions, late fees, or fines should apply. Fleets should still attempt to renew/register.
IFTA/IRP: Motor Carrier Services (MCS) is adjusting processes to accommodate the trucking industry at this time. IFTA/IRP has established a new account process, titling process for CMVs, add/add with transfers for established accounts, and a streamlined web application process for access to MCS online. Please see the following documents for details:
Resource for other states' IFTA and IRP waivers - IFTA Inc.
You can still complete some transactions online
South Carolinians are encouraged now more than ever to complete their SCDMV-related business online at SCDMVonline.com or by mail. Below is a list of some transactions that came be completed from the comfort of home.
Check eligibility for a REAL ID license and purchase REAL ID license if eligible
Renew a driver's license (only if you renewed it in the office last time)
Purchase a replacement driver's license
Purchase a collision report or motor vehicle record
Update residence or special mailing address
Update an emergency contact for law enforcement and first responders
Purchase a replacement vehicle registration card
Purchase a replacement title
Exchange a license plate for a specialty license plate
Renew registration (if received mailer explaining that a late fee is due)
If you have questions or need clarification about any changes to your credentials or standard operating procedure, please contact us at (803) 799-4306, or email Taryn Shekitka at taryn@sctrucking.org.
Did You Miss It?
2020 Virtual Annual Conference
View All Sessions Now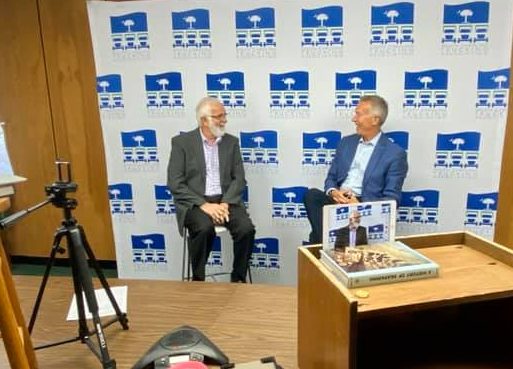 2020 SCTA Virtual Annual Business Session
2020 SCTA Virtual Conference:
SC Ports Authority
2020 SCTA Virtual Conference: ATRI and Friends
2020 SCTA Virtual Conference: Cybersecurity
2020 SCTA Virtual Conference: Heartfelt Leadership
Southern Tide's
Thank A Trucker
Collection